Severe Asthma
In the UK, over 8 million people, or approximately 12% of the population, have been diagnosed with asthma.1
Someone with 'severe asthma' has a specific type of asthma which is difficult to control with optimised inhaled therapy.2
Severe asthma is a complex condition and may be driven by different inflammatory pathways.3
Patients with severe forms of asthma face substantial burden of illness, marked reductions in quality of life, and require a significant amount of health resource.4
Primary Care clinicians can play an important role in identifying patients that potentially have severe asthma as it can be a life-threatening and debilitating condition that requires expert input to confirm the diagnosis and appropriate management.4
SPECTRA: Identification of SusPECTed seveRe Asthma in adults
SPECTRA primary care clinical system resources have been developed to help identify adults with potential severe asthma, optimise treatment and, where required, refer them to severe asthma centres.

SPECTRA Primary Care Clinical System Resources
AstraZeneca have worked in collaboration with the Accelerated Access Collaborative for input into the development of SPECTRA.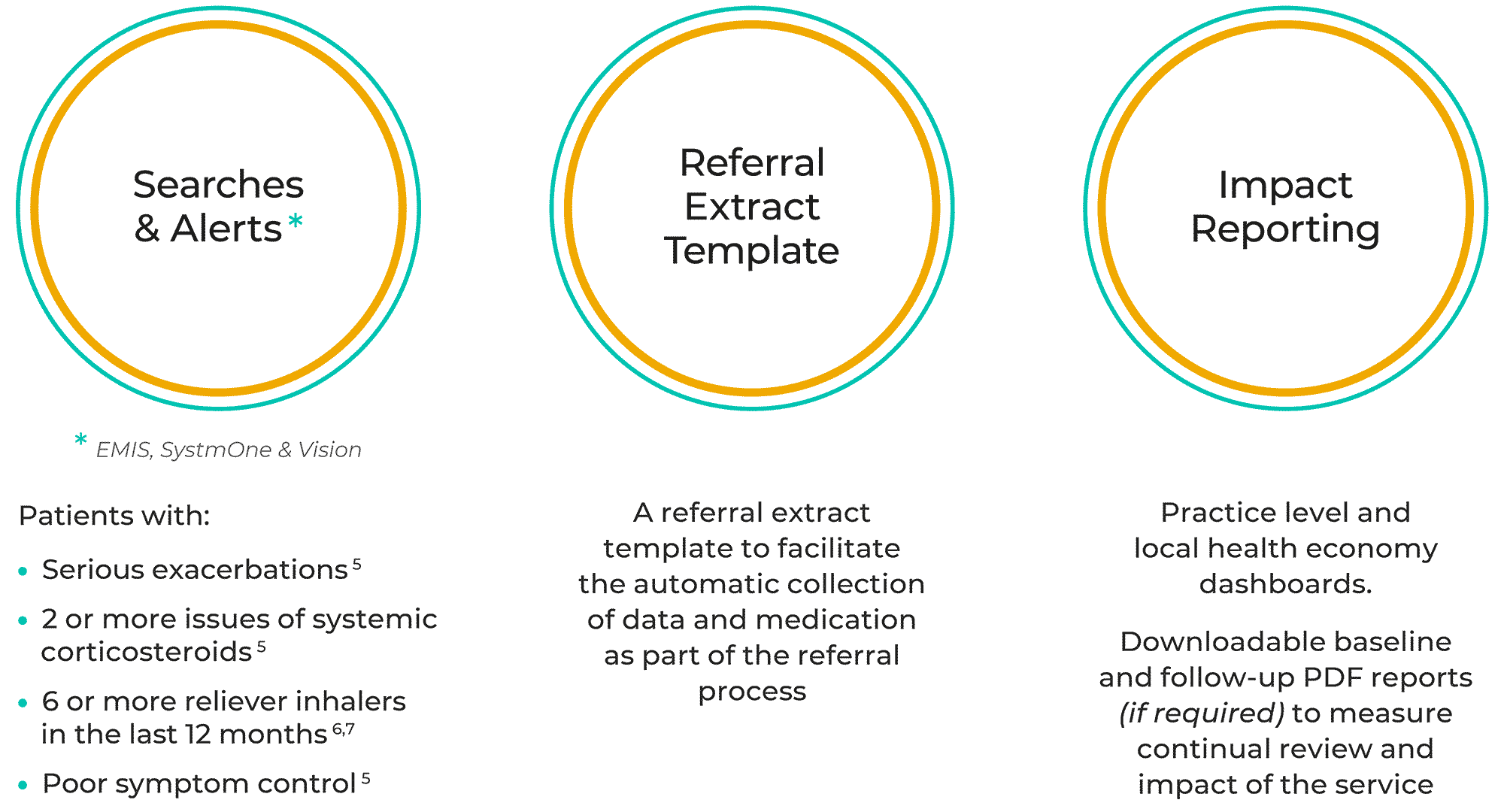 Medical and Educational Goods and Services (MEGS)
MEGS, are goods or services which enhance patient care, or benefit the NHS and maintain patient care.
MEGS may be offered to institutions, organisations or associations that are comprised of health professionals to help educate patients or enhance patient care in response to a clinical need but may not be provided to individuals for their personal benefit.
MEGS do not constitute an inducement to prescribe, supply, administer, recommend, buy or sell any medicine and details are publicly disclosed, as transfers of value, and are documented and kept on record by AstraZeneca.
This MEGS is organised and funded by AstraZeneca and delivered by Oberoi Consulting
To access SPECTRA primary care clinical system resources and reporting,
for your Healthcare Organisation, either click here to register or log in above.
1. NICE 2021. Asthma: What is the prevalence of asthma?
Available from: https://cks.nice.org.uk/topics/asthma/background-information/prevalence
[Last Accessed: August 2021]
2. Asthma UK 2020. What is severe asthma?
Available from: https://www.asthma.org.uk/advice/severe-asthma/what-is-severe-asthma
[Last Accessed: August 2021]
3. Rogliani P, Calzetta L, Matera MG, et al. Severe Asthma and Biological Therapy: When, Which, and for Whom. Pulm Ther. 2020;6(1):47-66.
Available from: https://www.ncbi.nlm.nih.gov/pmc/articles/PMC7229123
[Last Accessed: August 2021]
4. Haughney et al. Global Quality Standard for Identification and Management of Severe Asthma. Adv Ther 2020. 37(9):3645-3659
5. Chung et al. International ERS/ATS guidelines on definition, evaluation and treatment of severe asthma. Eur Respir J 2014; 43: 343–373
Available from: https://erj.ersjournals.com/content/43/2/343
[Last Accessed: August 2021]
6. Bloom, C.I., Cabrera, C., Arnetorp, S. et al. Asthma-Related Health Outcomes Associated with Short-Acting Beta-2 Agonist Inhaler Use: An Observational UK Study as Part of the SABINA Global Program. Adv Ther 37 2020, 4190–4208.
Available from: https://doi.org/10.1007/s12325-020-01444-5
[Last Accessed: August 2021]
7. Crowther L, Pearson M, Faruqi S, Xu Y, Morris T, Crooks M. "The Sentinel Project: experience-based co-design of an implementation-ready intervention to improve adult asthma care in primary care".
10th IPCRG World Conference, May 2021.